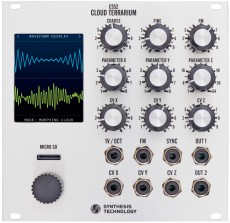 The digital oscillator E352 Cloud Terrarium combines the synthesis algorithms of E340 Cloud Generator and E350 Morphing Terrarium in one module.
Compared to the classics, the new circuit features a multitude of improvements, for instance a more modern processor, waveforms with higher resolution, wavetable import options and a color TFT display.

The Morphing Terrarium algorithms are specialized in wavetable synthesis. All in all, 192 basic waveforms are available. Via a microSD card slot, users can import their own wavetables. While working with its cloud algorithms, the E352 combines eight waveforms / wavetables to create sound. A LFO mode allows users to employ the module as a complex CV source. The Cloud Terrarium's results range from soft to harsh, sometimes metallic sounds. Supersaw rave pads and gigantic walls of sound can be produced easily as well.
Connectors:
1 V per octave input
Fm and sync inputs
CV X, CV Y and CV Z inputs
Two signal outputs
microSD card slot
---
Power consumption: 65mA at +12 V and 24mA at -12 V
Depth: 37mm
HP : 26
---
---
€
620