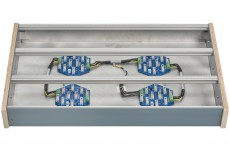 High-class modular case with an uncompromisingly designed power supply – The ACL case comes equipped with a total of 378 HP for housing modules. It is composed of a sturdy metal frame and wooden side panels. A switching power supply and four bus boards with star-shaped power distribution are built-in. All components work extremely accurate. The result: Security, a very low noise floor and brilliant sound. – A great solution for demanding studio tasks, which is suitable for occasional gigs as well.
The ACL case comes equipped with three module rows. Each of them is 126 HP wide. The case consists of a rugged metal body and stylish wooden side panels. Inside the case, there are four hexagonal bus boards with a total of 40 sockets for connecting modules. The switching power supply is mounted on the back of the case. Thanks to this, modules with a depth of up to eight centimeters can be installed everywhere in the case. The power supply offers the following features:
ACL Bar PSU:
Switching power supply, developed especially for modular systems.
Minimal voltage peaks and interferences. – The result: An extremely low noise floor and very honest sound.

+12 V – Regulated, filtered, less than 2 mV fluctuations and noise at full capacity, typically 0.5 mV.
-12 V – Regulated, filtered, less than 2 mV fluctuations and noise at full capacity, typically 0.5 mV.
+5 V – Unregulated, filtered, less than 30 mV fluctuations and noise.  Less than 10 mV at full capacity.

Very little heating, even at high loads.
Overvoltage and short-circuit protection.
Primary voltage: 100 – 240 V
Maximum continuous power:
2 A at +12 V
2 A at -12 V
4 A at +5 V
ACL Power Distribution Board:
Bus board with low impedance.
Decoupled +12 V and -12 V rails.
A star-shaped distribution system guarantees that all modules are powered equally. Close to no crosstalk.
Ten module connectors (per bus board).
Two separate CV / gate channels per bus board. – Can be interconnected via jumpers.
This case is also availabe as standing version.
Weight: approx. 6,5 kg
Measurements:
The metal frame has the following dimensions: 65,5 x 40 x 8 centimeters.
The wooden side panels have a depth of 35 centimeters at the bottom.
All in all, the case has a height of about 45 centimeters.
---
.
---
.
---
.
€
1050