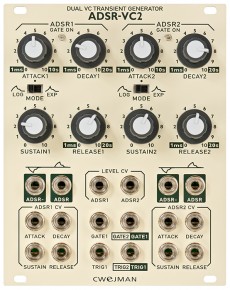 The ADSR-VC2 is a dual envelope generator with two identical, independent ADSR units which can be both triggered simultaneously by one single trigger due to a normalized jack.
All parameters (attack, decay, sustain release and the output level) can be voltage controlled. Besides short A,D and R times a switchable characteristic of the attack delivers both: punchy and crisp envelopes, as well as long envelope times.
Per envelope generator:
attack time: 0.1ms–10s
decay time: 0.5ms-20s
sustain level: 0-8V
release time: 0.5ms-20s
characteristic of the attack changeable between logarithmic and exponential
Normal (0 - 8V) and inverted output (-8 - 0V)
ADSR parameters and envelope output level voltage controllable
Gate/Trig reacts on a threshold of 2V or higher
Gate 2 In is pre-patched to Gate 1 In
Trig 2 in is pre-patched to Trig 1 in.
Power consumption: 30mA
HP : 20
---
.
---
.
---
.
€
635