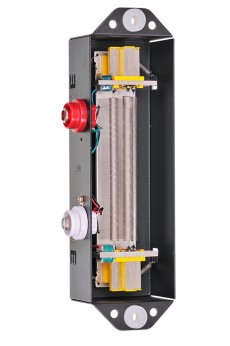 Spring reverb system: The system is made of three separate springs with transmitter and receiver to obtain a very "dense" reverb sound. The system has an additional spring suspension to avoid undesired sounds caused by (small) bounces against the case. Connections via standard cinch/RCA female connectors. The system is used in the spring reverb module A-199.
Dimensions: about 180 x 51 x 33 mm
Spring length: about 80 mm
Input resistance: typ. 190 Ohm
Output resistance: typ. 2500 Ohm
---
.
---
.
---
.
€
50