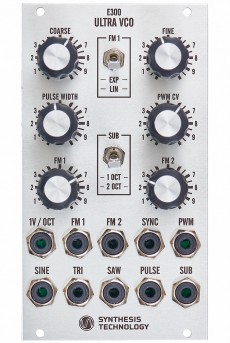 The E300 is nothing less than an overhauled version of the MOTM-300 for Eurorack systems. The E300 Ultra VCO is a very stable sawtooth-core oscillator which tracks over a wide range. It features linear and exponential FM, a sub-oscillator along the four standard waveforms: Sine, triangle, sawtooth and pulse with PWM. The newly designed triangle waveshaper allows for glitchless triangle and sine waveforms. Additionally the module has an improved Sync input for clean sync-sounds.
This is what the E300 has to offer:
Analog oscillator with excellent pitch tracking
Coarse and fine tune potentiometers
Waveforms: Sine, triangle, saw and pulse
PWM knob and CV input
Two FM inputs with attenuators. One of them features a switch for choosing between linear and exponential behavior.
Sub oscillator, which lies one or two octaves below the main VCO.
Sync input
HP : 14
---
.
---
.
---
.
€
419
Video