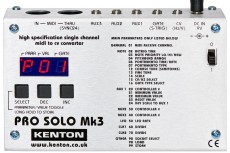 The PRO-SOLO Mk3 converts MIDI data into CV- gate and clock signals.
The operation is easy and clear, settings can be saved in non-volatile memory. High-resolution 16-Bit converters provide accurate tracking and fast response. 1V/oct and Hz/V characteristics are possible as well as normal gate and Switched Trigger (S-Trig).
The unit features two CV- and one gate output, additionally there´s a analog clock output. MIDI thru socket can also be used as DIN-Sync output or it can output two additional voltages with a special cable. MIDI synced LFO.
Additional Features (mk3):
Aux 2 & 3 are now available on jack sockets
Aux 2 & 3 are now continuously variable voltage (not just on/off)
Added ADSR for using with synths and modules that don't have one.
Added Drum trigger mode on the Aux outputs (selectable drum notes)
2x independent clocks (as on Modular Solo) which can be routed to any of the auxes and to DIN sync
Auxes have an adjustable slew rate (rise/fall time) to smooth out controller jumps
Pitchbend range increased to 48 notes up & down
When the MIDI Thru socket is switched to Sync, Available modes are Sync24, Clock 1 & Clock 2
9V switch mode power supply included. Products are supplied with the appropriate power supply for the delivery address. Four types are available, UK / EU / USA / Australia.
---
Dimensions: 140 x 87 x 45 mm
Weight: 210g
---
---
€
209