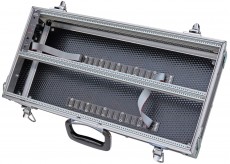 The Eowave suitcase is light as a feather, yet robust, thanks to its aluminum frame. The case offers 2x 104 HP. Its lid is very deep. Therefore, modules can be transported with patch cables inserted in their connectors. A power supply and two Bus Boards are built-in.
Eowave's 6U suitcase features a power supply with the following specifications:
1.5 A at +12 V
1 A at -12 V
0.5 A at +5 V
Modules with a depth of up to 84 mm can be mounted in the case. The Bus Boards come equipped with a total of 28 headers for connecting oscillators, filters and so forth. A total of 208 HP is available. (Minus 5 HP used by the Source D'Energie.)
An external power pack with 2.4 A is included in delivery. – Enough power to provide approximately 1.2 mA at +12 V and -12 V plus 300 mA at +5 V. For using the full capacity of the built-in power supply, a power pack with 4 A is needed.
---
---
---
€
550