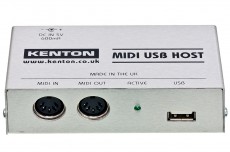 USB host-to-MIDI converter for "class compliant" USB MIDI devices.
It provides MIDI In and Out sockets for USB MIDI keyboards and controllers which have only a USB B type socket. In this way USB-MIDI controllers can be connected not only to the computer but also to other gear with classic MIDI connectors. Your USB unit is connected to the "USB MIDI Host" instead to a computer. Devices like keyboards or USB controllers having only a USB TypeB connector will be expanded with a MIDI In and Out. If you use e.g. the Kenton USB Solo together with the USB Midi Host then you can use the USB Solo in a standard MIDI seutp, just like Kenton´s ProSolo.
The device has a USB connector, a MIDI input and a MIDI output. Data received at the MIDI-In socket will be sent to te USB device, data from the USB device will be sent to the MIDI output. The USB device which is connected must be "class compliant". The USB MIDI Host is powered by a regulated, external 5V power supply and can provice up to 500mA via the USB buss power.
Dimensions: 110 x 55 x 32 mm Connections: USB MIDI in MIDI out
---
.
---
.
---
.
€
124