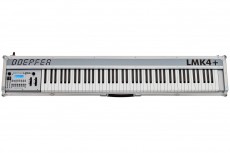 This is the grey version of the LMK4+ high-end masterkeyboard from Doepfer.
The LMK4+ is the high-end model among the Doepfer master keyboards with various possibilities for controlling sound and playing. Its high-quality hammer-action keyboard, the many controllers and connection options as well as the indispensable sturdy case in the format and design of a touring flight case make it one of the most popular devices of its kind for professional use.
It features 8 split zones, 128 memories and many free programmable controllers ( 2 wheels, 2 sliders, one rotary potentiometer, 2 footcontrol connectors, 2 footswitch connectors, after touch).
The most important features of LMK4+ at a glance:
high quality keyboard with real piano style action and hammer mechanics, 76 or 88 keys
grey flightcase with handle and removable lid
adjustable velocity reduction factor for black keys
velocity resolution max. 127 steps resolution, dependig upon selected velocity curve
monophonic aftertouch (Channel-aftertouch)
2-line, 16-character LC display, adjustable backlight/contrast
operation via 24 buttons grouped in three rows of eight, 8 buttons with LED display - two wheels: one spring-loaded and one without spring, MIDI functions free assignable - 2 sliders (60 mm fader), MIDI functions free assignable
1 rotary control (rotary potentiometer), MIDI function free assignable
1 endless rotary encoder for data input
1 Midi Out 1, 1 Midi Out 2, 1 USB connector, USB2.0, the USB interface outputs the same data as the Midi output 1
1 MIDI input that is treated by the LMK4+ as separate zone (e.g. for connecting/managing a second keyboard or bass pedal)
external 1/4" input-jack for double-footswitch (Sustain and Sustenuto function)
2 external 1/4" input-jacks for foot controller / sweep pedal
---
Footswitch In (jack) 2x CTRL In (jack) 2x MIDI Out MIDI In USB
---
---
€
1750